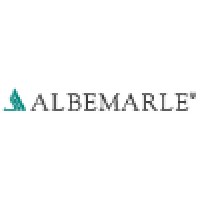 Albemarle Corporation
Are you inspired by "what's next"? So are we.
When you join the Albemarle team, you contribute to a better tomorrow. You will play a role in powering many of the world's largest and most critical industries, from energy and communications to transportation and electronics. We are putting innovation to work to improve people's lives and we want YOU to be a part of it.
Job Summary
Job Description
Albemarle Lithium's Europe Sales region has a highly diverse range of lithium products, customers and end applications. The Sales team is currently highly experienced, providing an opportunity for excellent development opportunities for an individual interested in commercial functions. This Inside Sales Representative will be accountable for managing over 50 customers across various specialty product divisions and markets. This role will be responsible for managing customers, totaling over $5-$10 million in annual revenue. This role is also expected to be a development opportunity and launch point for high potential individual who interested in commercial roles such as Sales Manager or Product/Business Management.
General Responsibilities
Responsible for negotiating and managing customers within Europe that do not require traveling.

Will likely be 50 –100 customers
Revenue >$5 million per year

Forecast accurate sales volume and revenues and meets/exceeds the annual operating plan targets.
Work with business management to quote and manage market opportunities.
Manage select commercial projects approved by Lithium Sales Vice President and CCO.
Successfully negotiate, implement and secure current and new business opportunities.
Develop, teach and apply Challenger Selling tools and techniques to customer interactions.
Write call logs on customer interactions including market insights for the business.
Help with quotes,
FUNCTIONAL SCOPE

Work within the S&OP process to translate future customer requirements to plants.
Utilize SFDC to quote customers, approve prices and document key customer interactions.
Required Knowledge, Skills & Capabilities

Excellent communication skills to work with broad and diverse range of stakeholders.
Basic knowledge of chemical industry/application, organic synthesis; Lithium knowledge preferred.
Resiliency to tough situations, particularly when dealing with customers that have needs that do not align with Albemarle resources.
Ability to develop relationships and influence across multiple functions of customer organization.
Understanding of the Challenger Selling principles.
Analytical skills to evaluate value chain, risks, growth potential of accounts, etc.
Minimum Requirements

EDUCATION/QUALIFICATIONS:
Bachelor's degree; Chemistry, Engineering or Finance preferred
Strong oral and written English.
Proficient in analytical tools including Excel, Word, PowerPoint, SAP and Sales Force.
MINIMUM EXPERIENCE IN YEARS:
At least 5 years in professional roles such as Finance, Operations, NBD, Sales, Supply Chain or R&D
Choose to unlock your full POTENTIAL. Apply today.